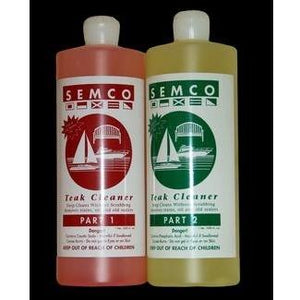 For cleaning teak, nothing compares to Semco teak cleaner.
PART 1 dissolves dirt and old sealers.
PART 2 brightens teak and neutralizes Part 1.
TWO PART CLEANER is the simplest and most thorough way to clean teak. It deep cleans teak without harsh scrubbing to remove graying, fish blood, fuel stains and teak oils.
Restoring Teak
If your furniture has been allowed to weather or is stained by food or other marks or if you wish to remove the Teak Sealer and start again, SEMCO Teak Cleaner will restore the wood to like new condition. 
Why… 
When teak is exposed to the elements without finish, has been oiled or is stained with food or other stains the surface becomes dirty gray and mildew often develops.  SEMCO Two-Part Teak Cleaner removes the effects of mildew, weathering and food and water stains. 
When… 
Clean at any time during the life of the furniture when cleaning back to the original unfinished wood is desired. It is not recommended that this type of cleaning be employed on a regular basis as it may contribute to the wood becoming rougher over time. 
How… 
Wet the wood with a hose and keep the wood wet during the entire process. 

Apply Part 1 Cleaner to a small area at a time. 

Use a Scotch Brite pad or soft scrub brush to scrub the area. 

Rinse if necessary to remove debris and keep wet. 

Apply the Part 2 Cleaner to the same area and scrub lightly with a soft brush or clean Scotch Brite pad. 
Repeat steps 2 through 5 on the next small area. Work on a small area at a time working from top to bottom. Larger areas can be worked by using a garden type sprayer to apply the cleaners. 
Rinse thoroughly with water. Repeat the process on any stubborn stains. The wood will lighten as it dries. 

Read and follow complete directions on the Cleaner bottles. 
Thank you for considering  SEMCO Teak Products for the care of your teak furniture. With these simple procedures your furniture will provide many years of beautiful service.
I just bought a new table and purchased the cleaner set. I would also like to seal the color. I assume that I should use the two step process to clean and then seal? And then going forward, do I just need to clean regularly or do both? Thanks for clarifying.

Thanks again for your business!

Your Seven Seas Teak table is ready to be sealed right away.

As long as it hasn't gotten dirty yet, you should not need to clean it first.

You can apply the sealer 1 to 2 times per year to your preference.

It would be best to use the 2-part cleaner just prior to re-applying sealer to remove any mildew, dirt etc.